Fighting malnutrition today to save our tomorrow
TCSRD's mission is to be a catalyst for positive change in the lives of underprivileged rural communities in India by addressing critical social issues, encouraging sustainable development and empowering people.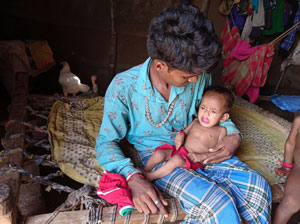 Baby Santosh with his father Sakariya
Malnutrition is one of the biggest issues being faced by young children in rural India. One of TCSRD's primary focus areas has been health and nutrition. As part of TCSRD's health intervention, a routine malnutrition screening camp was conducted for children under the age of 5 years during September 2020 in the Barwani (Madhya Pradesh) and Amravati (Maharashtra) districts. Many children were found severely malnourished during the screening. Santosh Dawar, a one-year-old infant from Rosar Patel Falya village in Madhya Pradesh's Barwani district was one of the malnourished children who weighed less than 5 kg.
As part of the procedure, the TCSRD team counselled Santosh's parents and advised hospitalisation along with other children who were found malnourished. Though the Dawars refused initially, the TCSRD team convinced them to admit the infant to NRC (Nutritional Rehabilitation Centre) – an institution where severely malnourished children are admitted to. His father Sakariya and mother worked as agricultural labourers with limited financial resources. During the counselling session, the team got to know that Santosh had been admitted to the NRC in two earlier instances.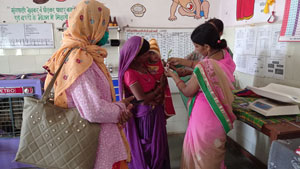 Baby Santosh being treated at Nutritional Rehabilitation Centre
The team also realised that the absence of proper care post-discharge from NRC had impacted his health. Multiple visits to the hospitals and large medical expenses had taken a huge mental and financial toll on Santosh's parents. They had almost given up hope, but the TCSRD team was optimistic. Through rigorous counselling on how to take a holistic approach toward good health and wellbeing, the TCSRD team successfully convinced Santosh's parents to admit him to NRC once again. Santosh weighed around 4.850 kg at the time of admission. Â
The TCSRD team figured out the missing components in Santosh's nutritional requirements and provided his family with the resources and assistance they needed to enhance the nutritional status of the food consumed by them. Â They proceeded to fill the thali with locally available nutritious food products which would make it a completely balanced and sustainable diet. Santosh's parents were given recipe demonstrations on how to use locally available nutritious food/ forest produce to ensure acceptability and sustainability while achieving improved nutrition, for example, using moringa leaf and curry leaf recipe, use of iron utensils for food preparation, etc. Santosh's parents were also guided on how to start a household kitchen garden, which would ensure food security and dietary diversity along with the sustainability. Several food preservations, processing and preparation methods were also explained to them along with other community members in order to improve food security and increase the bioavailability of nutrients.
TCSRD acted as a bridge between the government health services and the community thus facilitating access to government health services wherever possible thereby ensuring sustainability. The team also conducted capacity-building training sessions for the government staff - Government Health Staff (GHS), AAA platform (ASHA, Anganwadi worker, and ANM) to deliver better public health and nutritional services for children, adolescent girls, pregnant women and lactating mothers, ensuring a healthier outcome for families in the long term.Â
A week's stay at NRC set Santosh firmly on the road to recovery. His weight had increased and his appetite was restored. To prevent a repeat of the past, the TCSRD team kept a close tab on Santosh's health post his discharge from NRC. Extra take home ration was provided as part of the Integrated Child Development Scheme. Regular follow-up by the TCSRD team and frontline health workers ensured his healthy recovery and return to normal life. By November 2022, his weight had increased to a healthy range of 11.3 kg.
"My child survived only because of the care and counselling provided by the TCSRD ASHA and Anganwadi teams. We are grateful to all, especially the TCSRD team for restoring our son's health," says Sakariya, Santosh's father.
Santosh's recovery was a big learning experience for the residents of Rosar Patel Falya. Inspired by Santosh, children suffering from malnutrition were admitted to NRC and the villagers now are confident of winning the battle against malnutrition by focusing on nutrition coupled with treatment and care.
By educating the rural communities about the importance of nutrition, sustainable ways of including nutrition in an everyday diet and dispelling misconceptions about malnutrition, TCSRD has helped in the reduction of the Infant Mortality Rate (IMR) and Maternal Mortality Rate (MMR), helping save precious lives.