Serving community by nurturing young minds
Tata Chemicals' corporate social responsibility (CSR) team encourages its employees to engage in their human capital development projects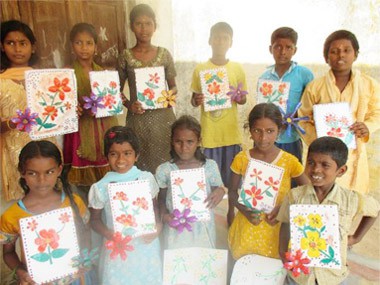 Training on the importance of herbs and locally available plants
As a corporate citizen, Tata Chemicals' (TCL) Corporate Social Responsibility (CSR) team have put in place certain practices to empower and involve employees in the Integrated Child Enhancement Project that provides complementary education and developmental opportunities for school-going children. Awareness, education and training on the importance of herbs and locally available plants of medicinal value was organised with the support of TCL employees. The 'Speak English' programme that enhances language fluency skills among children was also initiated with their guidance.
World Environment Day, Women's Day, Teachers' Day, National Sports Day, Children's Day celebrations, etc., are significant events during which TCL's CSR champions take total responsibility for implementing various programmes from awareness to students' behavioural education in a holistic manner. Moreover, employees also volunteered and supported events such as medical camps. Volunteers at TCL - Chennai has increased to over 22 employees who are actively engaged in various CSR activities; 44 CSR days were utilised in 2014-15. This epitomises TCL's focus on employee engagement for human capital development.
Outreach
5 schools and 371 student beneficiaries.
10 periodic enhancement camps were conducted.
7 national and international events were organised.
7 nutritional clubs were formed, and 10 'Spirulina and All vitamin Green trainings' were conducted for children, mothers and caretakers.
Outcome of the activity
i. Children have gained knowledge about herbs and medicinal plants, and are on a quest to learn ways and means to lead a healthy and productive life.
Children in our project villages have become our project ambassadors. Their enthusiasm and motivation to be part of our project activities have not only helped us to carry out without problems, but also helped us to gain in the participation of their parents. Infact, school children are the real community mobilisers in an informal way.