The Tata Chemicals' Sustainability team from the Nutraceuticals plant in Sriperumbudur stepped up their relief efforts to provide succour to the affected people in flood-ravaged districts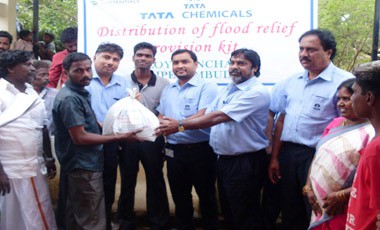 Four districts of Tamil Nadu – Chennai, Thiruvallur, Cuddalore and Kancheepuram - were affected by unprecedented rains that occurred in November and December 2016, causing rivers and streams to flood low-lying areas. The worst affected was Chennai, due to the overflow from Chembarambakkam lake, which is the biggest reservoir supplying water to Chennai city. Many areas were inundated within the city; the airport was closed for a week in December 2016. Power supply, communication and transport services were badly affected during the rains.

Tata Chemicals' Nutra plant is located in Kiloy village, Sriperumbudur Union, Kancheepuram District. The Kiloy panchayat has 10 wards and an elected President. During the heavy rains, the President, Kiloy panchayat, approached the company to sponsor and directly distribute relief materials to the affected families.
The villages of Kiloy, AN Kandigai and Ulunthai, located within the vicinity of the factory, are covered under Tata Chemicals' CSR activities (for various community development programmes through an NGO organisation).
Based on his request, it was decided to distribute flood relief provision kits bearing the Tata Logo (refer table below) to the affected families residing in the villages of Kiloy and AN Kandigai.
The business head approved of the sponsorship of relief measures, and the distribution of relief kits (valued at approximately Rs1 lakh) was organised in Kiloy through a token system. Two hundred and fifty families in Kiloy village received these kits; subsequently, another 60 kits were distributed in AN Kandigai village.
Two hundred and fifty school children from these three villages were given school kits that included a school bag, notebooks, pencil, eraser and ruler.
The parents and teachers of these children expressed their happiness and gratitude to the Tata management. No one had stepped forward to distribute such kits, and they thanked the Tata management for supporting and helping their families and children through this troubled time.
Apart from this, the Tata Chemicals' Nutraceuticals team also participated in the packing of various flood relief materials organised through Tata Sustainability Team for Tamil Nadu – Floods Response Programme.