The supply chain partners of Tata Chemicals are valued business associates of the company and integral stakeholders in the success of the company. The company strives to achieve success for all stakeholders by an Enterprise Wide Risk Management initiative to ensure smooth operations.
We look forward to achieve a perfect balance in business economics with environmental and social responsibility in a transparent ethical manner, in the value chain which shall help minimise business continuity risks, regulatory, reputational, market business acceptance and consumer requirement risks for all stakeholders in the business.
Tata Chemicals envisions engaging with its supply chain partners around the principles of UN Global Compact to advance sustainable development objectives in its business endeavours.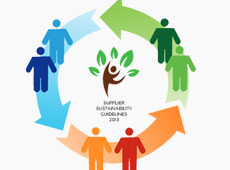 Supplier Sustainability Self Assesment
Environment

Environmental permits and reporting.
Undertake precautionary approach towards avoiding spills or pollution – chemicals, air, land and water.
Adopt responsible use of natural resources – energy, raw materials and water, and environmentally friendly and clean technologies.
Occupational safety and health

Ensure safe and hygienic working spaces, machine safeguarding, and fire safety.
Ensure emergency preparedness, provisioning for occupational injury and illness.
Ensure preventive and protective measures to prevent accidents, illness and injury.
Labour

Elimination of forced and compulsory labour; all work will be voluntary, and workers should be free to leave upon reasonable notice.
Effective elimination of child labour.
Promoting diversity in the workforce.
Ensure humane working environment and fair compensation.
Ethics, transparency and governance

Ensure highest level of compliance to the Tata Code of Conduct and relevant regulatory bodies.
Maintain and share documentation regarding procurement practices, sub supplier engagement, labour engagement and applicable compliances for operation.